A paper was published in PLoS One a few days ago by Soneji et al that made the bold claim that "e-cigarette use currently represents more population-level harm than benefit".
That claim, for reasons we'll come to shortly, is not remotely supported by the evidence. But this leaves me with rather mixed feelings. On the one hand, I am disappointed that such a massively flawed paper can make it through peer review. It is a useful reminder that just because a paper is published in a peer reviewed journal does not mean that it is necessarily even approximately believable.
But on the other hand, the paper was largely ignored by the British media. I find that rather encouraging. We have seen flawed studies about e-cigarettes cheerfully picked up by the media before (here's one example, but there are plenty of others), who don't seem too bothered about whether the research is any good or not, just that it makes a good story. Perhaps the media are starting to learn that parroting press releases, when those press releases are a load of nonsense, is not such a great idea after all.
Sure, the paper made it into two of our most dreadful and unreliable newspapers, but as far as I can tell, the story was not picked up at all by the BBC or any of the broadsheet newspapers. And that's a good thing.
So what was wrong with the paper then?
It's important to understand that the paper did not collect any new data. There was no survey or clinical trial or review of health records or anything like that. It was purely a mathematical modelling study based on previously published data.
Soneji et al attempted to model the benefits and harms of e-cigarettes at the population level by considering what proportion of smokers are helped to quit by e-cigarettes, thus experiencing a health benefit, and what proportion of never-smokers are encouraged to start smoking by e-cigarettes, thus experiencing harm.
Of course a mathematical model is only as good as the assumptions that go into it. The big problem with this model is that there is no evidence that e-cigarettes encourage anyone to start smoking.
Now, there have been studies that show that young people who use e-cigarettes are more likely to start smoking that young people who don't use e-cigarettes. Soneji et al used a meta-analysis of those studies to obtain the necessary estimates of just how much more likely that was.
But there is a big problem here. The assumption in Soneji et al's modelling paper is that the observed association between e-cigarette use and subsequent smoking initiation is causal. In other words, they assume that those people who use e-cigarettes and then go on to start smoking have started smoking because they used e-cigarettes.
A moment's thought shows that there are other perfectly plausible explanations rather than a causal relationship. Surely it is more likely that there is confounding by personality type here. The sort of person who uses e-cigarettes is probably the type of person who is more likely to start smoking. If e-cigarettes were not available, those people who first used e-cigarettes and then subsequently started smoking would probably have started smoking anyway.
But this is to some extent guesswork. While Soneji et al can most definitely not prove that the association between e-cigarette use and subsequent smoking is causal, no-one can prove it isn't causal from those association studies, even if another explanation is more plausible.
We can, however, look at other data to help understand what is going on. Given that e-cigarettes are now far more available than they were a few years ago, if e-cigarettes were really causing people who wouldn't otherwise have smoked to start smoking, then you would expect to see population-level rates of smoking start to increase.
In fact, according to data from the Office for National Statistics, the opposite is happening. According to the ONS data, "Since 2010, smoking has become less common across all age groups in the UK, with the most pronounced decrease observed among those aged 18 to 24 years".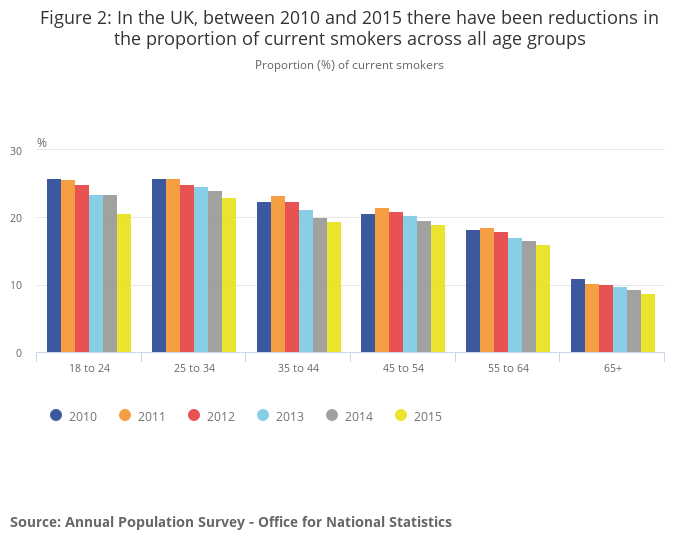 Now, of course we can't say that that decrease in smoking prevalence is because of e-cigarettes, but it does seem to argue strongly against the hypothesis that e-cigarettes are encouraging young people to start smoking on a grand scale.
And if you believe Soneji et al's claims, people would be starting smoking on a grand scale. Prof Peter Hajek, quoted by the Science Media Centre, has calculated what Soneji et al's claims would mean if they were true in the UK:
"This new 'finding' is based on the bizarre assumption that for every one smoker who uses e-cigs to quit, 80 non-smokers will try e-cigs and take up smoking. It flies in the face of available evidence but it is also mathematically impossible. In the UK alone, 1.5 million smokers have quit smoking with the help of e-cigarettes. The 'modelling' in this paper assumes that we also have 120 million young people who became smokers."
I think we can all see that having 120 million young people who are smokers among the UK population doesn't make a whole lot of sense. Why could the peer-reviewers of the paper not see that?