Well, 2020 was quite a year. I'm sure it's one that most of us are glad is over.
Here in the UK, we have been badly hit by the covid-19 pandemic, indeed we have one of the worst death rates in the world. It didn't have to be this way: as an island nation with a well developed health system, we could have handled the pandemic far better. Unfortunately, we have a government of incompetent idiots who have simply not been up to the job of dealing with it.
As I write this in early January 2021, covid-19 cases are at high levels and rising rapidly, following a reasonable approximation to exponential growth since the beginning of December with a doubling time of just over a fortnight. This is, frankly, terrifying, given that hospitals are already stretched to their limits.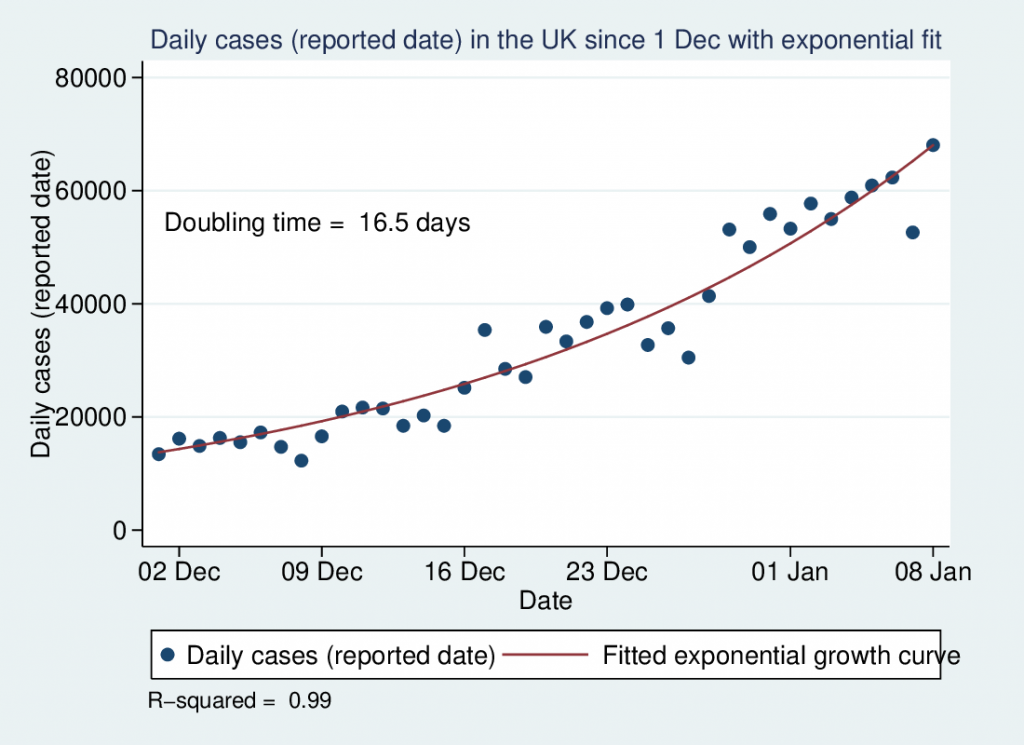 But there is a ray of hope, in the shape of vaccines. We now have 3 vaccines approved for use in the UK, and over a million people have already been vaccinated. It has been an extraordinary achievement to get not one, but 3 vaccines invented, tested in large clinical trials, and approved in such a short space of time. The scientists, clinicians, clinical research professionals, statisticians, regulators, and last but by no means least clinical trial volunteers should be incredibly proud of what they have achieved.
It will take many months or possibly even years to vaccinate the whole UK population. But sensibly, vaccination is being prioritised for those most at risk, mainly starting with older age groups. The government have promised that they will have vaccinated the 15 million people at highest risk by the middle of February, including everyone over 70 as well as health and social care workers and those who are clinically extremely vulnerable.
They will break that promise of course, just like they break all their promises.
But hopefully at some time in the next few months, even if not as early as mid-February, all those high risk people will have been vaccinated. What does that mean for getting our lives and the economy back to normal?
Vaccinating that number of people will certainly not give us any meaningful herd immunity, but given that most deaths from covid-19 occur in the elderly, we would expect that vaccinating all the over 70s will dramatically cut the death rate.
At that stage, there may be a temptation on the part of politicians to open up the economy again, taking the view that perhaps it doesn't matter if covid-19 is still circulating widely if few people are dying from it.
I think this would be a mistake. First, just because most deaths from covid-19 occur in the elderly, it does not mean that younger people don't die from it at all. Very approximately 10% of covid-19 deaths are in people under the age of 60, and if the virus is spreading rampantly through the population and millions of people are infected, then the absolute numbers of younger people who die will not be negligible.
But there is a further reason to be cautious: long covid.
There is still much that we don't know about long covid, but what we do know is that a small proportion of patients continue to have significant symptoms weeks or even months after the acute infection. It has been estimated that about 1 in 10 patients still have symptoms after 12 weeks.
If millions of people are being infected, then that suggests that hundreds of thousands of people may suffer from long covid.
What we don't yet know is how long the symptoms of long covid last. Maybe most people will be back to normal within a year, or maybe the symptoms are generally permanent. We simply do not yet have enough long term data to know, given that the disease only first appeared just over a year ago.
Some of the symptoms of long covid are very worrying. Quite apart from potentially permanent lung and heart damage, one study found that cognitive performance could be reduced in a manner equivalent to 10 years of ageing.
If the symptoms of long covid do turn out to be permanent, then having hundreds of thousands of people affected by them would be nothing short of a public health catastrophe.
So while there will be a temptation to get back to normal life once deaths from covid are much reduced following vaccination of those at higher risk, I think that temptation needs to be resisted for a while longer until enough of the population have been vaccinated to give significant herd immunity.
At any rate, much as I miss my local pubs, I will not be going back to them until after I've had my vaccine.