I wrote last week about how the number of cases of coronavirus were following a textbook exponential growth pattern. I didn't look at the number of deaths from coronavirus at the time, as there were too few cases in the UK for a meaningful analysis. Sadly, that is no longer true, so I'm going to take a look at that today.
However, first, let's have a little update on the number of cases. There is a glimmer of good news here, in that the number of cases has been rising more slowly than we might have predicted based on the figures I looked at last week. Here is the growth in cases with the predicted line based on last week's numbers.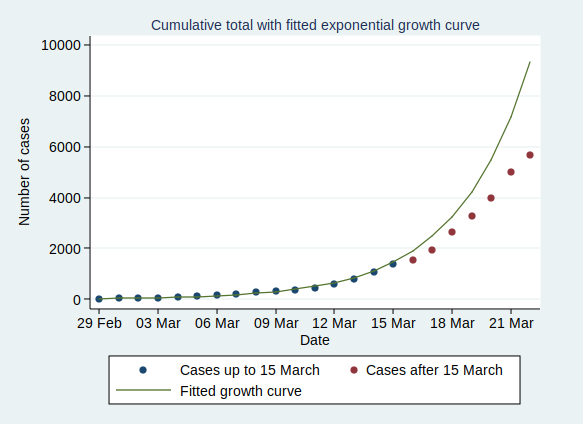 As you can see, cases in the last week have consistently been lower than predicted based on the trend up to last weekend. However, I'm afraid this is only a tiny glimmer of good news. It's not clear whether this represents a real slowing in the number of cases or merely reflects the fact that not everyone showing symptoms is being tested any more. It may just be that fewer cases are being detected.
So what of the number of deaths? I'm afraid this does not look good. This is also showing a classic exponential growth pattern so far: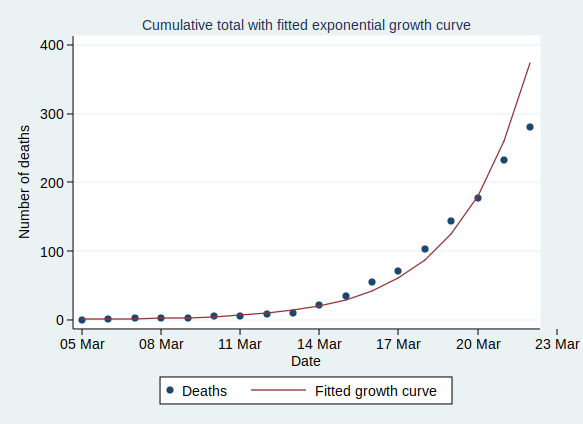 The last couple of days' figures are below the fitted line, so there is a tiny shred of evidence that the rate may be slowing down here too, but I don't think we can read too much into just 2 days' figures. Hopefully it will become clearer over the coming days.
One thing which is noteworthy is that the rate of increase of deaths is faster than the rate of increase of total cases. While the number of cases is doubling, on average, every 2.8 days, the number of deaths is doubling, on average, every 1.9 days. Since it's unlikely that the death rate from the disease is increasing over time, this does suggest that the number of cases is being recorded less completely as time goes by.
So what happens if the number of deaths continues growing at the current rate? I'm afraid it doesn't look pretty: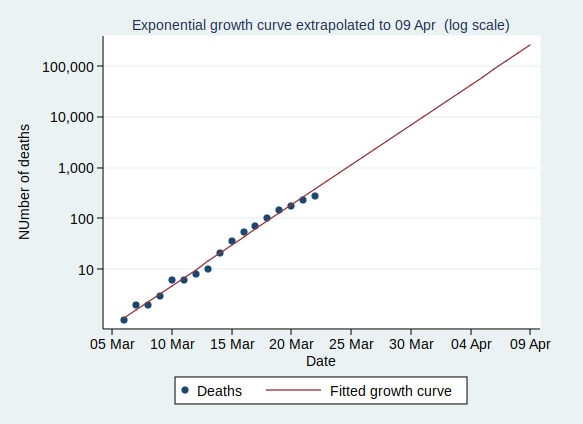 (note that I've plotted this on a log scale).
At that rate of increase, we would reach 10,000 deaths by 1 April and 100,000 deaths by 7 April.
I really hope that the current restrictions being put in place take effect quickly so that the rate of increase slows down soon. If not, then this virus really is going to have horrific effects on the UK population (and of course on other countries, but I've only looked at UK figures here).
In the meantime, please keep away from other people as much as you can and keep washing those hands.