At this time of year you will no doubt see many adverts for "detox" products. It's a nice idea. Most of us have probably eaten and drunk rather more than we should have done over the last week or so. Wouldn't it be nice if we could buy some nice helpful thing that would "flush all the toxins out of our system"?
This one is pretty typical. It claims to "cleanse the body from inside out". There's just one problem with this claim, and indeed with the claims of any other detox product you care to mention: it's total bollocks.
Let me explain with this handy diagram: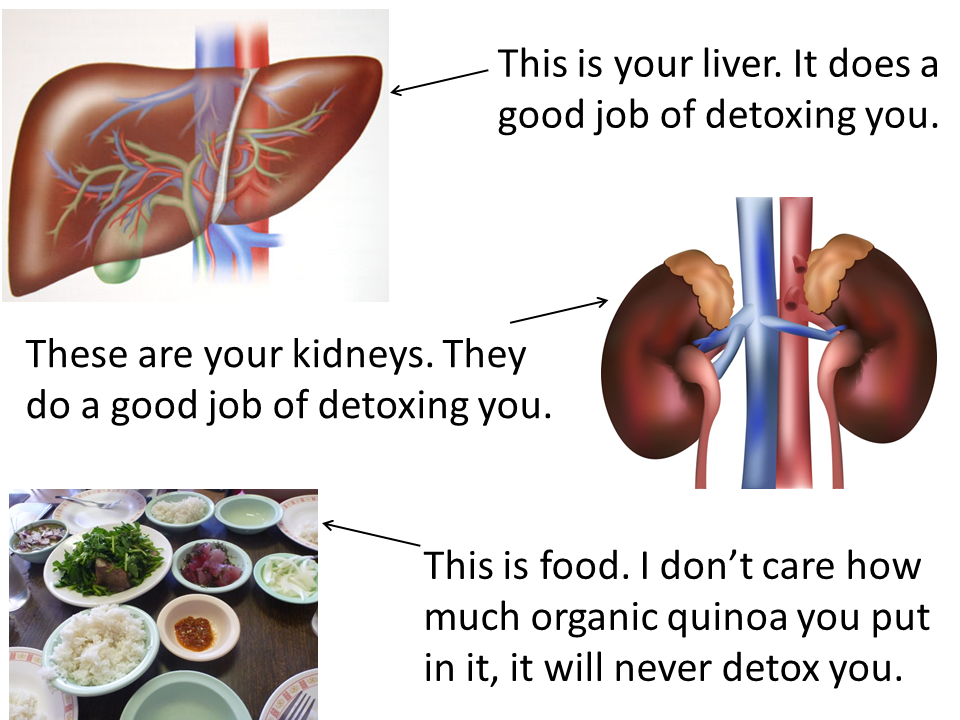 There may well be things in our system that would be better off not in our system. Alcohol immediately springs to mind. But here's the thing: millions of years of evolution have given us a liver and a pair of kidneys which, between them, do a remarkably good job of ridding the body of anything that shouldn't be in it.
There is no scientific evidence whatsoever that any "detox" product will provide even the slightest improvement on your liver and kidneys.
If someone tries to sell you a detox product, perhaps you could ask which specific toxins it helps to remove. I have never seen that specified, but surely that is the first step to being able to show whether it works or not.
And then, in the unlikely event that this snake-oil detox salesman does tell you which toxin(s) the product is supposed to remove, ask for the evidence that it does. I guarantee you that you will not get a sensible answer.
So if your new year's resolution is to "detox" yourself, then that's great. Eat a healthy balanced diet, don't drink too much alcohol, take plenty of exercise, and don't smoke. But any money you spend on "detox" products will be 100% wasted.
Happy new year.